News
Stanford University Graduate School of Business Seeks Collaborations with HIT
The Stanford University Business School's is seeking potential synergies with HIT research and entrepreneurship development through its Institute for Innovation in Developing Economies which run the Stanford Seed.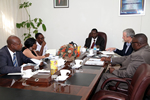 Mr Davis C. Albohm, the Standford Seed Associate Director for Global Operations met with the HIT Chancellor, Deputy Registrar Mr L. Kusema, Director and Business Development Manager of the Technology Transfer, Licensing and Commercialisation Centre Dr Eng. Garikai and Ms L. Masiyazi, respectively to discuss the areas of potential collaborations and synergies.
Mr Canisio Tanyanyiwa, an officer from the Ministry of Foreign Affairs and International trade also attended the meeting.
According to Mr Albohm, the United States based University is seeking to partner with research institutions and entrepreneurs in emerging markets to build thriving enterprises that transform lives. "We are seeking to build strong connections and meaningful developments in emerging economies, especially in Africa and India. We want to build synergies between our University and other international institutions as well as funding research projects in entrepreneurship development mostly in the Silicon Valley context. Currently, we are running the Seed Transformation Program in East and West Africa based in Nairobi and Accra, respectively," he said.
The Seed Transformation Program is a​ ​​leadership management training​ and networking ​support program ​for established business leaders in East Africa bringing Silicon Valley innovation and entrepreneurship to their businesses. The program emphasizes on management skills, tools and mindsets that are required to grow and scale businesses and how to successfully run businesses that can lead to regional or greater prosperity. It is a comprehensive year-long program that includes twelve months of immersive management training in East Africa designed specifically for business owners and their teams, led by Stanford GSB faculty, other practitioners, and supported by trained local facilitators. The ultimate goal is to create and activate a detailed action plan to help the participants to grow and scale their businesses.
Throughout the year-long experience, participants will work in small peer groups called Leadership Labs to share experiences, resources, ideas, and support. They may also apply to receive high-touch coaching upon completion of the Seed Transformation Program.
The key benefits of the Stanford Seed Program are the development of skills, tools and mindset to grow and scale businesses that positively impact the community. Participants also gain essential business and leadership skills, from strategy and finance to marketing and design thinking, all taught by world-renowned Stanford faculty, and local business practitioners.
Vice Chancellor Eng Q.C Kanhukamwe said HIT will see how it can work with the Stanford Graduate School of Business to see how its staff, students, graduates and fellow Zimbabweans can participate in the Stanford Seed Program. "We need to keep talking and discussing in order to establish synergies to promote entrepreneurship development in the Southern African region. Our university faculties also need to work together to see how we can develop each other," he said