News
Top Indian Academic Speaks On Technology Management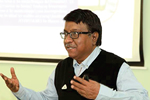 Professor Prakash Sai L, of the Indian Institute of Technology, Madras delivered a seminar on "Strategic Management of Technology and Innovation" on 15 June.
The seminar was organised by the Technopreneurship Development Centre, and was attended by academics, management and administrative staff. It covered topics on technology, innovation and foresight, technology and culture, technopreneurship and Bottom of Pyramid Markets, as well as globalisation and innovation management.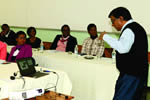 Professor Prakash gave an insightful presentation on the evolution of technology. He traced its ideological foundations, and changing trajectories throughout the centuries to the current dispensation of Industry 4.0, - and its implications to development and human advancement.
He advocated for creativity and innovation in the science, engineering and technology sectors, underscoring its transformative role in the transformation of societies. "Creativity is the expression of novelty, value and aesthetics manifested in a product, and is usually accompanied by a response dominated by delightful surprise. Innovation involves commercial exploitation of a new or significantly improved product or service or widespread use and application of a new method or process as a result of creativity," he said.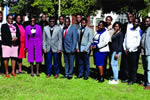 Prof, Prakash also called for collaborative research and development activities driven by science, technology and user needs. He also highlighted the changing business models in the tertiary education sector, highlighting that in order to survive, Universities should also adopt a viable and sustainable business model.