News
Two Foreign Organizations Court HIT
Two foreign companies are seeking collaboration with the HIT in research, development and commercialisation of unmanned aerial vehicle (UAV) techonlogies, fasteners and fabricated components for transmission towers and microwave antennas.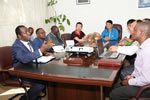 A delegation from Stars7Tech Private Limited led by Mr L.B Song met with the Institute's Senior Management and the Director of the Technology Transfer, Licensing and Commercialisation Centre (TTLC) Dr. Eng. T. Garikai to discuss possible opportunities for cooperation in research and development, manufacturing, teaching and application of a full range of UAV systems for agricultural and surveillance purposes.
According to the Director of Stars7 Tech(Pvt) Ltd, Mr Song, the Chinese based company is cooperating with many Chinese TV stations, film and television media organizations, UAV manufacturers and military police to provide quality services in various large-scale entertainment programs, aerial photography and production of film and television, UAV performance and sales, agriculture and forestry protection, aerial seeding and tree planting, rescue and security tasks.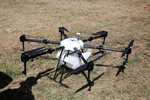 "The company is committed to developing and expanding the market of Zimbabwe by introducing high-end technology and products to the country and other southern African countries, making contributions to the scientific and technological development of Africa," said Mr Song.
Engineers and technicians from Stars7 Tech(Pvt) Ltd also performed a demonstration of their UAV technologies for agricultural and surveillance purposes on Campus.
In his address to the delegation, HIT Vice Chancellor Eng. Q.C Kanhukamwe said advised the company to present their expression of interest clearly stating the specific areas of intended cooperation. "We are a research and development institution and we will also be able to indicate to you some other aspects of possible cooperation, exploring how we can integrate some of your technologies to a Geo-spatial programme.
Another delegation from Sterling Bolts Pvt. Ltd. of India also visited the University to explore areas of collaboration in fasteners and fabricated components for transmission towers and microwave antennas. The company has a primary interest in the manufacturing and trading of "Fasteners and Fabricated Components" for Transmission Towers and Microwave Antennas.
Founder and Managing Director Mr. Uma Shankar Agarwal said that the company manufactures all grades and high tensile fasteners in black and hot-dip galvanized conditions, fabricated items made of mild steel, stainless steel, brass and aluminium for communication towers as well as accessories like foundation–anchor bolts, eye bolts and nuts, shackles, U-bolts, hooks, studs and other items as per customer's drawing.
The delegation also toured some of the University's workshops and laboratories in the Electronics Engineering and Industrial Manufacturing Engineering departments.