News
Universities are Engines of Economic Growth
Universities around the world are increasingly becoming engines of economic growth shifting from their traditional primary role as education providers and scientific knowledge creators to a more complex "technopreneurial" university model that incorporates the additional role of commercialization of knowledge and active contribution to the development of public and private enterprises in the local, regional and global economy.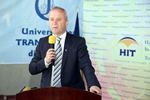 Speaking after addressing a Public Lecture on "The Technical education at Transylvania University and its contribution to the socio-economic development of Brasov region in Romania", the Rector of Transylvania University Prof. Dr. Eng. Ioan Vasile Abrudan emphasized the important role that technical universities play in the development of any country and as such HIT should play this important role in Zimbabwe considering its specialization in science, engineering and technology.
"Universities are now increasingly tasked not only to cultivate an entrepreneurial workforce that can adapt to the demands of a complex and competitive economy, but to also directly drive economic growth through technology transfer and the production of intellectual capital that can be licensed, patented or spun-off into companies," he said.
"Technical universities should establish strong links and relationships with industries because they prepare and train future employees. Universities need to know the industry's needs and industry also need to know from universities the trends, new developments in science, engineering and technology. On the other hand, I do believe there are also opportunities for our technical universities to get student practical placements at these companies. These companies can also support the development of curricula and syllabi in different engineering programmes; as the universities also need to consider the needs of these companies," said Prof. Dr. Eng. Abrudan.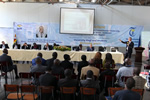 Commenting on the relations between Zimbabwe and Romania, Prof. Dr. Eng. Abrudan said that based on their discussion with the Minister Plenipotentiary of Romania to Zimbawe, Dr Silviu-Gabriel Barbu, they realized that they have to revive the good relations between Zimbabwe and Romania through academic co-operation. "Considering that our two universities specialise in technical education, we decided to start collaborative cooperation between HIT and the Transylvania University. I am here with my other three colleagues to discuss with HIT on areas of possible collaboration", he said.
Prof. Dr. Eng. Abrudan said he has already discussed some potential areas of collaboration with the HIT Senior Management and that there was clear commitment to this cause from both sides to cooperate. "We have already identified our possible areas of cooperation like the exchange of staff and students. Other opportunities are in research and technology transfer. I am glad that I have met with people who are committed, and during our tour of the HIT Campus, I have met and talked to some committed and knowledgeable staff. I am sure we will have rewarding results in this cooperation. Together we can do and build anything," he said.
During his Public Lecture on "The Technical education at Transylvania University and its contribution to the socio-economic development of Brasov region in Romania", Prof. Dr. Eng. Abrudan explained the establishment and growth of the Transylvania University in the Brasov region, its recent evolution, the technical education and research at the university, links, cooperation between the university and the industrial companies with industry.
Transylvania University was established in 1948 and has 18 faculties, about 20 000 students of which 468 are PhD students, 1,264 staff members with 741 teaching staff and 31 researchers. The university teaches Undergraduate bachelor programmes, Masters and PhD programmes.
In terms of infrastructure, Transylvania University has over 70 lecture rooms, 50 seminar rooms and 367 laboratories as well as a Modern library with more than 740 000 book volumes, 4 computer rooms and access to an electronic database.
It also houses the largest Research Institute in Romania that was built and equipped between 2009 and 2013, 19 of the 29 research centres are in the field of engineering.
The university is situated in the most industrialized area of the country, with a long tradition in automotive, aerospace, mechanical, electrical and wood industries. It is the only university in Romania providing higher education in Wood Engineering and has a high reputation and long tradition in Automotive Engineering, Material Sciences and Engineering.
Transylvania University is the only Romanian university where a team of students builds a new racing car and participates in the Formula Student competition at Silverstone and Catalonia annually.
It is the second university in Romania in terms of the number of registered patents in 2016 and it has 159 research and technical assistance contracts in 2016 (more than 2 million Euros).
The university has more than 40 industrial beneficiaries in 2016 which are Autoliv Romania, Electroprecizia Electrical Motors, Schaeffler Technologies, Arcelor Mittal Tubular Products, Draxlmaier, Tata Technologies, Airbus Helicopters, Thermolift Inc, and Preh Romania.