News
University Escalates Anti-Littering Campaign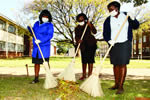 The University escalated its anti –litter campaign by holding a clean-up exercise on June 8 under the theme - "Litter Free Environment-Stimulant of Innovation."
All HIT staff participated in this robust and refreshed approach to anti-littering on campus and were addressed by the Vice Chancellor - Eng. Quinton Kanhukamwe, Registrar- Mrs - Mary  Samupindi, Chaplain - Commissioner Stuart Mungate, Ms Sifila Maposa of Central Services and Eng Innocent Chikurunhe, a Lecturer in the Polymer Technology and Engineering Department.
In his devotion, Commissioner Mungate emphasised that cleanliness is next to Godliness and urged staff to keep their environment clean. Quoting scripture, he cited examples of God's instruction on hygiene and healthy practices.
HIT Vice Chancellor Eng. Kanhukamwe said the escalation of the clean-up campaign was in response to a call by the Office of the President to make this concept part of institutional culture. "Cleanliness and hygiene should be part of our DNA. We should keep on escalating our anti-littering campaigns on our campus. Charity begins at home and we should all be reflective of who we are - People who are hygienic! So let us clean-up our campus," said the Vice Chancellor before getting a broom to launch the campus clean-up campaign.
HIT Registrar, Mrs Samupindi pledge Management's commitment to supporting strategies put forward by departments on how to maintain and escalate the level of cleanliness on campus. "We must up our game in terms of consciousness in maintaining a clean campus," she said.
Eng. Chikurunhe encouraged everyone to embrace good and proper waste management technologies practices. "People must be educated and trained on waste management. We must embrace proper waste management technologies and also educate the communities around us," he said. Electronic Engineering student and EMRECC Club member, Blessing Mpala concurred, also highlighting student's awareness of maintaining clean environs.
Maposa called on everyone to take the responsibility to clean-up the campus, while "Cleanliness should be our culture here at HIT. This is our home and everyone should maintain this campus clean by practicing anti-littering," she said.