News
Vice Chancellor Gets the African Leadership Engineering Excellence Award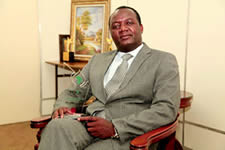 The Harare Institute of Technology Vice Chancellor Eng. Q.C Kanhukamwe was conferred with the African Leadership Engineering Excellence Award at the Third African Educational Institutions of Excellence Showcase (AEIS) held in Washington DC, USA on 20 April, 2018.
The Third African Educational Institutions of Excellence Showcase (AEIS) was held under the theme "The Role of Education in Fostering Social and Economic Development" and was designed to buttress the importance and impact of the education sector as a component of the continent's socio-economic development, while putting into perspective issues affecting the progress of the sector. It is an annual meeting of leaders and actors in Africa's education sector organized by African Leadership Magazine to examine, discuss and develop common policy perspectives on a range of issues affecting the continent's higher education sector, and to proffer solutions towards the moulding of Africa's development future.
In his acceptance speech, Vice Chancellor Eng. Q.C Kanhukamwe said HIT is extremely humbled and grateful for the honour bestowed upon it and proudly accepts the award. "This award is dedicated to the entirety of the University staff, and in particular our School of Engineering and Technology and their colleagues in the complimentary Schools of Industrial Sciences and Technology, Information Sciences and Technology as well as Business and Management Sciences. We also pay tribute to our strategic partners who continue to believe in our destiny, cause and calling," he said.
African Leadership Magazine is a Pan-African flagship of good governance journal dedicated to showcasing the best of Africa to a global audience. The magazine has in the last couple of years, dedicated its platforms as an avenue through which in-depth analytical solutions are proffered to the peculiar challenges being faced by the continent while shining the spotlight on best practices and outstanding leadership contributions in all spheres of African life.
The Third African Educational Institutions of Excellence Showcase (AEIS) engaged heads of education regulatory bodies in Africa, policymakers, development consultants, ministers of education, representatives of higher institutions, chancellors of universities, professors, and other stakeholders, who are committed to the pursuit of excellence in Africa's education system; with an agenda geared towards fostering economic and social change and the molding of Africa's development.