News
HIT Hosts First Edition of Women in Technology Event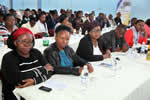 The first edition of the Women in Technology Event (WITECH 2018) was successfully held at HIT on 8 March 2018 under the theme "Women in Technology: Working towards Progress for All", as part of the commemorations to mark the International Women's Day.
The event was facilitated by the Technology Transfer, Commercialisation & Licensing Centre (TTCLC) in conjunction with the Department of Industrial & Manufacturing Engineering (IME) and was aimed at reflecting on the progress made by women in technology, advocating for increased participation and retention of women and girls in technology based areas, such as Science, Technology, ICT, Engineering and Mathematics (STIEM). The event was also aimed at providing career guidance to high school students; career propositions to professionals wishing to develop themselves in the STIEM fields,- while also contributing to the promotion of the HIT brand.
Several organisations partnered in the event, such as the Forum for African Women in Education (FAWEZI), Techwomen Zimbabwe, African Women in Science & Engineering (AWSE), Zimbabwe Institution of Engineers (ZIE), Women in Engineering, Michelle Boit Mentorship (Kenya), GEMProjects Network (Southern Africa), and Talbless Automation, amongst others.
Over 200 delegates comprised of high school students from across Harare attended the event and were addressed and inspired by more than 15 speakers. Other participants were engineering and technology students from various local higher education and tertiary institutions, engineering professionals from government ministries, law firms, industry and commerce, local startups, technology hubs, NGOs, companies and professional bodies.
Speakers at the event emphasised the need to equip young women in school and professionals with critical STIEM skills in areas such as leadership, sustainable technology innovation, mentorship, intellectual property, digital skills and design thinking, among others.
In his opening remarks, Eng. P. Muredzi, Dean of the School of Industrial Sciences & Technology and the School of Engineering & Technology spoke on the undisputed need for gender diversity in technology, and indicated that there were reports of the presence of few women leaders in technology. "The Harare Institute of Technology envisages that event participants will explore new business opportunities that underscore how technology is powering change. The University no longer expends much energy on galvanizing women to take up technology positions, that we have successfully done, but we now consider the need for women to tackle technology related challenges in their research and development work and we now await outputs and breakthroughs," he said. The Dean recommended the need for mentorship programmes and networking opportunities, flexible working hours to aid a good work-life-balance and more opportunities for personal development of young women.
Dr. C. Bogezi, a molecular microbiologist, gave a presentation on the opportunities for women and men in the technology sector and she highlighted the urgent need for leadership and greater involvement in local research that would put Zimbabwe on the international academic map. Ms. R. Mlambo, a patent specialist with Muvingi & Mugadza law firm also spoke of the need for mentorship, technology and protecting project/product ideas as well as how male and female innovators and entrepreneurs can balance their family roles, whilst developing innovations and protecting their technologies and inventions.
Eng. M. Pawandiwa, an experienced structural engineer affiliated to the Zimbabwe Institution of Engineers – Women in Engineering division talked about advancing women in technology. She focused her presentation on how female engineers/technologists can develop in their fields and build a business model canvas. Ms. L. Nyamadzawo, representing the Dean for the School of Business and Management Sciences, gave an informative presentation on financial literacy. She made recommendations on how to increase financial literacy, through setting smart goals, tracking spending habits, starting a savings habit and using credit wisely.
Mr. T. Nhokovedzo, founder of Afrodigital Skills Training and an international digital marketing consultant and trainer presented on digital skills for the technocrat. He gave an in depth talk on how a technocrat can develop and grow a brand, highlighting the importance of digital marketing in boosting the performance of a technology based business whilst inspiring innovative collaboration.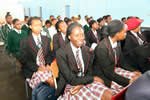 Eng. J. K. Mutisi, Chief Executive Officer of Hansole Investment and current Chairperson of the Zimbabwe Information & Communication Technologies Division, gave an insightful presentation on how to succeed in a technology business and how to approach sustainable technology innovation in the twenty-first century. He gave encouragement on choosing a technology based career, highlighting on the opportunities to be discovered in making such a choice.
Ms. Prudence Kadebu, a software engineer and Chairperson of the Software Engineering department at HIT gave an inspiring presentation on leadership at work. She spoke on hard work, discipline, applying one self and she concluded her talk by giving a framework on how to achieve great leadership. Eng. Farai Mavhiya-Bhiza, Chairperson of the Engineering Council of Zimbabwe, and member of the Institute Board at HIT, highlighted the importance of professional registration for career progression and the need to safeguard the integrity of STIEM professions. She spoke of how registration with professional engineering bodies like the Zimbabwe Institution of Engineers (ZIE) and the Engineers Council of Zimbabwe (ECZ) can help both male and female engineering practitioners become engineers, who can manage all the multidisciplinary tasks required in the sector. She also spoke on the role of professional bodies in creating credibility and integrity, as well as enhancing the mentoring process for women engineers.
Eng. L. Mudzingwa, a metallurgical engineer at HIT, spoke on technology in our daily lives. Her talk gave an insightful analysis on the role of technology and highlighted on the various innovations accomplished with technology. She urged all women to work and push themselves towards greatness in their fields.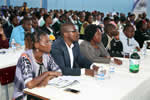 HIT second year students also gave some presentations and these were R. Muvingi and R. Nyamindi who are both second year students in Industrial and Manufacturing Engineering. Their presentations dwelt on on design thinking for students, highlighting the achievements of women in design and product development as well as the importance of both women and men in the area of technology. Other engaging presentations were done by D. Mangunda from Industrial & Manufacturing Engineering and T. Muchengadava from Polymer Technology & Engineering.
Ms. M. Sanyanga, an engineering student from Chinhoyi University of Technology was the last to speak and she delivered an engaging and heartfelt presentation on the challenges an aspiring technocrat faces at school, giving recommendations on how to overcome those challenges.
During the event, the Acting Director of the Technology Transfer, Commercialisation & Licensing Centre, Eng. T. Garikayi announced the Girls Engineering Essay Competition. The competition concept was developed by Dr. Nyamapfene of the University College of London (UCL) in collaboration with IME and WITECH event coordinator Eng. L. Masiyazi. The competition, is scheduled to run up to June 2018 and seeks to foster engineering problem identification and solving skills in Ordinary level and Advanced level high school girls in Harare. The competition will be facilitated by HIT, through the TTCLC, in partnership with UCL.
Commenting on the event, Eng. Garikayi said that the WITECH event surpassed expectations. "The career guidance and recommendations given by the speakers focused on enhancing capacity and drive of women and girls to be key change agents and contributors to innovations and initiatives in technology based fields and business ventures. Further recommendations, came from the participants to work towards future events and activities that involve hands-on interactive activities and to maintain the trend of events which are inclusive of both girls and boys," he said.
Eng. Garikayi urged the participation of all stakeholders in working towards a STIEM inspired future, as he applauded the critical role of women and girls in technology development and innovation.