Vice Chancellor's Internationalisation Message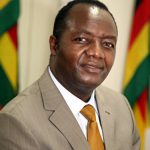 The Harare Institute of Technology is a good global citizen driven by its core values of: Innovation, Leadership, Integrity, Commitment and Professionalism. As a university, we are deeply committed to nurturing relevant and meaningful international partnerships through:
Providing a wider platform for technology development, incubation, transfer and commercialization
Increasing diversity on our campus
Improve our University's global competitiveness
Enhance opportunities for international collaborations
Join and engage the World in enhancing international development
The tenets of our Memoranda of Understanding and agreements with various Universities and international bodies are fine examples of the type of creative collaborations we aspire to develop. They are also a clear demonstration that for HIT, Internationalisation is more than just an isolated activity but the touchstone of its very survival. Therefore, the Harare Institute of Technology will continually remain globally connected and influential.
Even in an era of global upheavals, HIT will not abdicate its responsibility to connect globally. We are also alive to the imperative that our links to the wider world begin at home. As a result, on the home front we are leaving no stone unturned in adopting global standards and imperatives.
We also continue on our trajectory of further strengthening our faculty by recruiting top notch Professors and international students as we establish a teeming university.